Lessons Digest Celebrates First Anniversary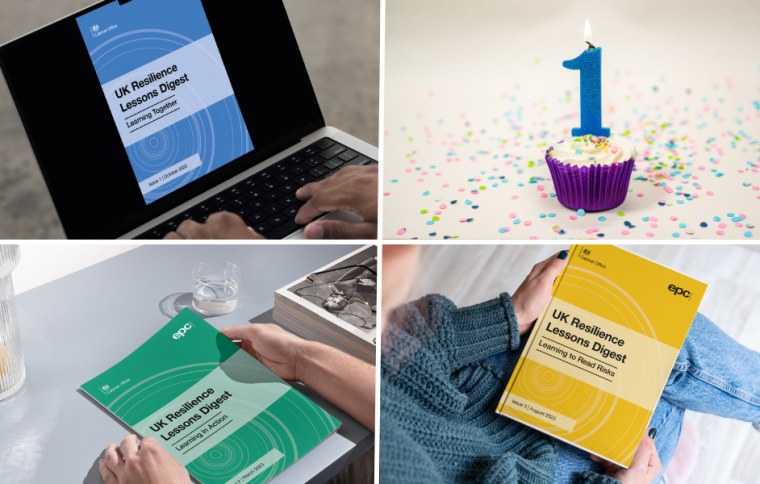 It's been one whole year since the very first Lessons Digest was published. Part of a programme of work partnership with the Cabinet Office to synthesise lessons learned from all major exercises and emergencies, Lessons Digest has seen three issues and accompanying webinars.
The series is gaining popularity every day, with thousands of downloads from across the globe. Now widely regarded by many as best practice, the Lessons Digest's purpose is anchored in the central government commitment, as outlined in the UK Government Resilience Framework, to summarize lessons from a wide range of relevant sources, sharing learning insights consistently across the UK government and wider resilience partners.
As the world changes and the risk profile with it, we reflect on how the Lessons Digest series is helping to support the resilience community.
Introducing a new approach to UK resilience
The first issue 'Learning Together' launched in October 2022 and introduced the three core objectives that underpin the programme:
Summarise transferable lessons and themes from a wide range of relevant sources
Share lessons across responder organisations and wider resilience partners
Coordinate knowledge to drive continual improvements in doctrine, standards, good practice, training and exercising
Issue 1 included lessons and learning themes arising from the impacts of Storm Arwen, as well as reflections on UNDRR's Global Assessment Report 2022, contributions from JESIP and the National Fire Chiefs Council (NFCC) and London MET police. It received a positive reception, with over 250 people joining the live webinar from across local and central government, critical national infrastructure, the voluntary and private sector and academia.
The guiding aim for the Lessons Digest programme
"A strong resilience system – including UK Government departments, devolved administrations, local authorities, emergency services and the private and voluntary and community sectors – is more important than ever."
Learning lessons from past and present
The second issue 'Lessons in Action' followed in March 2023 and included a review and analysis of lessons identified from more than a decade of emergency exercises as well as lessons and learning at national and local levels from the Manchester Arena Inquiry. Again, the supporting webinar was well attended with over 500 registrations.
Since then, the audience has grown exponentially and attracted attention from over 35 countries across the world with several thousands of downloads.
Learning to Read Risks
Issue 3 'Learning to Read Risks' explores the national risk assessment process, approaches to risk, lessons of risk from the COVID-19 pandemic and those risks outlined in the National Risk Register 2023 edition. Featuring contributions from the Royal Academy of Engineering, Emergency Management Victoria, Alder Hey Children's Hospital and PWC. The accompanying webinar had a record-breaking 673 registrations with 64% joining live on the day to hear the exciting line up of guest authors and speakers.
Across the Lessons Digest series, there are three icons to help direct readers to pertinent points in the publications:

Sidelights is intended to highlight key insights, academic information, or professional practice that sheds some light on the topic being discussed in the article.

Make it active encourages practical application or suggestions to try in your own context.

Resources provides a summary of recommendations from the analysed reports, signposting to further reading and insights.
Supporting a whole-society approach
Author of the Lessons Digest series and Head of Thought Leadership at the EPC, Lianna Roast, spoke of the importance of the series in supporting knowledge sharing and lessons management on previously unseen scale:
"We are delighted that Lessons Digest has been welcomed by the resilience community across the world. The engagement and support has been incredible.
"We are guided by the aim of whole society resilience, that's why we take a partnership approach, with the documents public-facing and freely available to all."
"The Digest specifically exists to complement, not compete with other important lessons and knowledge exchange work. We include tools and resources to support practical application and adopt some academic rigour to that to ensure we're providing evidence-based lessons and to try and make the product accessible.
"We've designed the Digest to break the content down into specific articles so that it is easy to digest the whole lot in one go, should you want to, or can be taken in bite-sized chunks, allowing you to easily focus on your areas of interest.
"I wish to thank each and every one of you that has engaged with or contributed to the Digests or our webinars, and for those who've taken the time to share feedback. This helps us to continually improve the Lessons Digest series and go from strength to strength."
Dr. Claudia van den Heuvel, PWC, who contributed to Issue 3 and was a guest speaker spoke of how the Digest has positively impacted her work:
"One of the reasons I love the digest is that it really brings together insights from academia, private and public sector practitioners, from all across the globe, without any reservation or bias. It acts as a true melting pot of lessons and viewpoints.
"Its open approach and platform to sharing these lessons with the community acknowledges that we have so much to learn from each other; even where we didn't know there would be an applicable lesson. I have taken lessons from the digest and revisited my methodology for designing impactful crisis exercises; and, in learning about some methodologies, have connected people from very different areas outside the world of risk/crisis management to contributors. The connections you make at both a personal and professional level from the insights are incredibly valuable!"
"One of the reasons I love the digest is that it really brings together insights from academia, private and public sector practitioners, from all across the globe, without any reservation or bias."
In partnership with the Cabinet Office, the EPC will release Issue 4 in 2024. David Russell-Parsons, Deputy Head of the Training and Exercising Team at Resilience Directorate, spoke of importance in learning lessons and embed them into future emergency and crisis planning:
"Learning lessons from exercises, but also real-world events, is critical to improving our preparedness to risks. For instance, in the aftermath of last year's heatwaves, and mindful of the long-term trend for more extreme weather, the Cabinet Office is working with our partners to ensure we are better placed to respond to heatwaves this year. Until a year ago, we had no repository or synthesis of regular lessons for usage by the UK Resilience community.
"Now thanks to combined cross Government efforts and the EPC – and the ever-watchful eye, superb analysis, coordination and superb leadership of Lianna Roast – we have a regular 'Lessons Digest' that brings together lessons from exercises, inquiries and real-world responses to incidents across the country to support all our improvements in preparedness."
"Thanks to combined cross Government efforts and the EPC we have a regular 'Lessons Digest' that brings together lessons from exercises, inquiries and real-world responses to incidents across the country to support all our improvements in preparedness."
Download the Lessons Digest Series