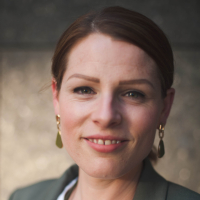 Lianna's work focusses on the processes involved in learning lessons from major incidents, crises and emergencies. She leads a programme of work at the College in support of the ​UK Government's commitment to synthesise lessons from exercises and emergencies. This includes the research, development and design of the UK Resilience Lessons Digest.
Commissioned by UK Government and delivered by College, the Digest is a public facing document that aims to support learning processes and strengthen whole-society resilience. You can find out more about the Digest on our Knowledge Hub.
Before joining the EPC, Lianna spent 17 years in the education and not-for-profit sectors. During that time she deigned, delivered and directed a range of community learning initiatives for major grant funders, including the European Social Fund. She also established a track record for academic excellence during five years in academia, before moving into the wider resilience arena.
Lianna is passionate about learning in both theory and practice to increase preparedness and improve resilience. In 2021 she authored a report for the National Preparedness Commission titled: 'Learning that can save lives: Psychological perspectives on learning from major Incidents and disasters'.
Lianna is also a Research Associate with Bournemouth University's Disaster Management Centre (BUDMC), Co-Chair of the Lessons and Implementation Board at the Counter Terrorism Preparedness Network (CTPN) and sits on the Committee of the Political Psychology Section at the British Psychological Society (BPS).
In her spare time Lianna enjoys reading, walking and spending quality time with friends and family.
Qualifications
MSc Disaster Management; BSc (HONS) Psychology; ILM Level 4 Leadership and Management; MBPsS,