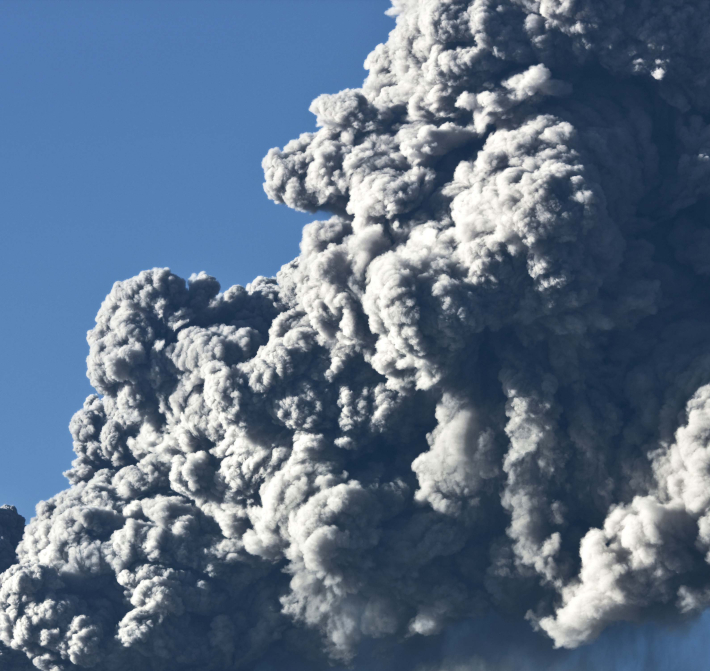 Monday's tragic events in New Zealand, with the eruption of the White Island volcano, are a reminder to us of what living with live volcanoes can mean. Our thoughts and best wishes are with everyone affected by that event, and we salute the local responders who are doing such amazing work. At the EPC we have always admired the dedication, skills and professionalism of our New Zealand colleagues working in our shared business of civil protection.
In the UK we don't, obviously, have any active volcanoes. The reason is that we aren't anywhere near a tectonic plate boundary. It's the same reason we don't have very serious earthquakes. See our post about UK earthquakes that we published in November.
The nearest active volcanoes are in southern Europe (Italy and Greece) and in Iceland. They seem comfortably far enough away. But we do have to take account of the indirect consequences of eruptions; that's why you will find 2 pages devoted to volcanic eruptions in the National Risk Register.
The indirect consequences that affect us are produced mainly by eruptions that create large quantities of gas, ash and other particles. There are two main types of eruption. Explosive eruptions are associated with ash clouds, which can be dense, massive and persistent. These can affect jet engines and they have led to large areas of airspace being closed.
Effusive eruptions can produce huge quantities of gases that damage air quality and the environment. Both can affect very large areas, and, with the right weather conditions, we will be affected in some way. The consequences are severe enough to warrant planning and preparation.
In summary then, the consequences we could expect from an eruption, with prevailing winds not in our favour, are: casualties caused by poor air quality (particularly among those with pre-existing respiratory problems), disruption to essential services (especially air transport); economic damage (especially to tourism and business) and environmental damage (especially to water and agriculture). The human health effects are broadly similar to the poor air quality risk, which we also posted about last month.
We do have a recent example, which is a good illustration of some of these consequences and which shows the potential 'reach' of an eruption – meaning its ability to create consequences quite far away.
Iceland is notable for many great and lovely things. One of them is volcanoes with names that are unpronounceable – at least to the English. So, when Eyjafjallajökull erupted in March 2010 it gave our newsreaders a bit of a challenge.
But the difficulties didn't stop there. By April, the volcano's cloud was immense, and consisted of fine, highly abrasive and glass-rich ash particles. Air travel was massively disrupted and there were delays and flight cancellations all over the world for six days.
Why did that happen?
Volcanic ash is a serious problem for aircraft. It reduces visibility, but the biggest issue is that abrasive microscopic debris effectively sandblasts windscreens and melts when it enters the jet turbines. This can cause significant damage and make the engines shut down.
How did that happen?
Firstly, the volcano is directly under the main path of the jet stream – which was uncharacteristically stable at the time. Also, the eruption was powerful enough for ejecta to reach the jet stream and be distributed by it. Finally, the effect of glacial meltwater and its rapid vaporisation meant that the eruption became more powerful and the ash cloud denser and its particles more abrasive. So, as ever, it was a combination of contingent circumstances – not just the simple fact of an eruption.
It is interesting to reflect on the figures for CO2 emissions; the grounding and cancellation of European flights for 6 days saved over twice as much in emissions as the volcano caused.
So, what is being done about this risk? There is considerable international co-operation – it seems to be one of those things that states manage to find common cause on relatively easily. So, we can understand and map the atmospheric and other consequences of eruptions on a global scale, through a network of linked Volcanic Ash Advisory Centres (VAACs). The ash cloud dispersal from Eyjafjallajökull (and I copied and pasted that rather than trying to type it again) was modelled by the London VAAC, which is part of the Met Office. This was due to the way the globe is divided up into VAAC areas of responsibility; the North Atlantic is the London VAAC's area. It doesn't suggest that Iceland was incapable of doing it for itself.
We also now have a better developed understanding of the tolerances and safe margins involved, so the blanket grounding of flights across a large area may not necessarily be needed again. Interestingly, the UK Government has a specially equipped atmospheric monitoring aircraft at its disposal.
If you are concerned about this risk your travel provider should advise you, as will the Civil Aviation Authority. But you could also check the London VAAC's website.
If you've been following our blogs, you might have become (like us) a bit of a fan of our wonderful Met Office!
Elsewhere in the world, check this website to connect to any of the other regional VAACs.