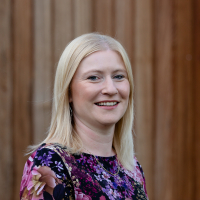 Marie is responsible for managing the, day-to-day business of the EPC Hawkhills site.
With an innate understanding of all the relevant legal and regulatory requirements, Marie focuses on delivering service excellence to ensure that all those who visit the EPC have a fulfilling experience. She does this by embodying the Serco values of trust, care, innovation and pride across the team.
Using her vast experience and knowledge, Marie's role predominantly focuses on looking after the hard and soft facilities management services, supporting the employee journey, and with a keen interest in building relationships.
Marie brings a wealth of knowledge and experience to the EPC, having worked in a range of dynamic and complex commercial hospitality and event management businesses.
These roles have equipped Marie with a range of skills from developing and implementing business plans in a service delivery business, to building effective relationships and partnerships.
Over her career she has had an excellent track record of management and the motivation of individuals and teams. This has given her the ability and experience to build effective relationships and partnerships, which has been essential for her role at the EPC.
For Marie, one of her strongest values is that of building relationships. She takes great interest in looking after people and helping to make working at EPC a great experience for every employee.
Marie likes travelling with her family and two spaniels in their motorhome, exploring the countryside on holidays. In her spare time, she plays the accordion in a Ceilidh Band.
Qualifications:
FdA Hospitality Management, Associate Member of the Business Continuity Institute (AMBCI)