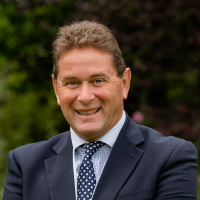 With over 30 years' crisis management experience, Andrew's knowledge is in demand across the UK from government departments and local resilience forums through to our delegates here at the EPC. He is entirely focused on outcomes and understanding customers needs, developing quality learning solutions and excellence in delivery and validation.
His skills in training and exercise development and delivery, combined with his adult education qualifications make him a much sought after facilitator who imparts his wisdom in a passionate way and shows his core commitment to public service. Bringing crisis management to life for people, teams and organisations and equipping them with the right tools is very important to him.
Andrew has developed an outstanding knowledge working as a Tactical Crisis Manager within a Category 1 (CCA) responder organisation. His professionalism and skills have seen him take up key roles including 4-years' as Chair of a Community Safety Partnership and Safety Advisory Group.
Andrew's extensive experience includes working as a Home Office Trainer and Facilitator with an overarching interest in individual, team and organisational learning and development. His wide knowledge base has been expanded by his tactical lead work at various major incidents and events throughout the UK.
Andrew is not only renowned for his credentials, he is also known for his ability to connect meaningfully with clients. He works to fully understanding organisational needs, developing and delivering learning solutions, before validating and assuring growth in confidence and competence. Building crisis resilience relies on developing people, plans and processes in equal measure.
His current goals are to bring resilience capability to life by understanding organisational needs, weaknesses and gaps in crisis response. Developing and delivering bespoke training and/or exercising solutions for clients and building enhanced capability through the adoption of industry leading tools and methodology in managing a crisis incident. He achieves this through facilitated learning, helping delegates to understand what they should do, why they should do it and, most importantly, how they should do it.
Now his children are fully grown, Andrew and his partner are beginning to find more time to pursue their own interests which incudes travel, cycling and horticulture. He enjoys all sports and his true passion remains scrolling through the BBC Sport website.
Qualifications:
MA (Adult Education), Certificate of the BCI (Merit), City & Guilds 7307 Adult Trainer, Home Office Trainer's Certificate
What Our Customers Say
""Andy's experience and facilitation style made (the training) incredibly impactful. I will certainly be an advocate for Andy as well as the College at large.""
""Very knowledgeable, helpful and accommodating.""
""Andy is an excellent facilitator. Really clearly explained the subject and connected with us as individuals and as a group.""
""Andy is very engaging and clearly knowledgeable. Delivery was excellent and the course was very enjoyable. Thank you.""