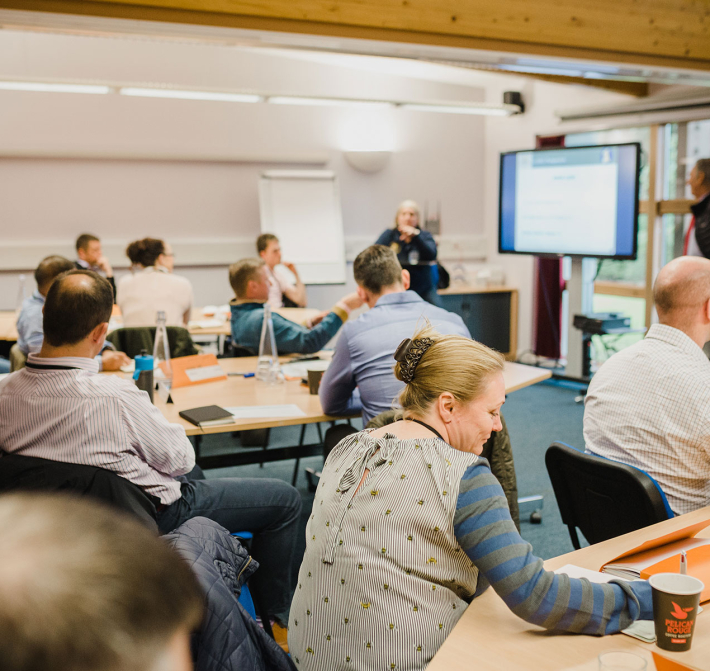 Our Resilience Capability Lead, Kelly Blakeley, was recently asked to write an article for the Emergency Services Times on ways to approach resilience learning...

When the pandemic hit the UK, the Emergency Planning College's task was to support the resilience community in building its resilience capabilities and review the portfolio of services that it provided to meet new challenges.
In March 2020, I was just six months into my new role. I work for the UK Government's trusted provider of resilience learning and development, the Cabinet Office Emergency Planning College, which is managed by
Serco Ltd (the international provider of services to governments).
As resilience forum colleagues swung into full response mode, we started planning to roll out the COVID-19 Support for Resilience Organisations Programme to support England, Wales, Scotland and Northern Ireland. Previous approaches were largely campus based, but we were challenged to quickly reinvent the college's channel of integration with responders and support them through what was likely to be one of the most intense disruptive events of their professional and personal lives.
Supporting resilience practitioners
Over eight weeks of the modular programme commissioned by the Civil Contingencies Secretariat (CCS), we reached over 3,500 resilience practitioners with bite sized sessions across four disciplines: learning lessons; managing concurrent events; recovery management; and human aspects and working with civil society. Professionally, I relished the challenge and the opportunity to work closely with new colleagues as I took on oversight of half the modular programme. The programme felt wanted and valuable; I kept in mind those who would be responding in local communities across the country, we had to support them with valuable training at this time. There was a lot of professional learning points from this programme, unlike any training development and delivery I had been involved in before. The context around us and the innovation required will remain with me for a long time. The significance, timescales and impact of the programme also left a legacy for our training.
Close to classroom
In 2019, Serco invested in the Connected Learning Suite (CLS), a modern 'close-to-classroom' technology virtual platform at the College campus. The CLS was scheduled for a progressive roll out across our prospectus. However, as for most organisations, the switch to new ways of working and technological implementation meant that we accelerated virtual learning. Replicating a training experience online is a discipline in itself. Having now delivered extensive online and classroom training, I am passionate about the fact that good virtual training is not merely a case of an audience of screens rather than people. There is a whole host of relevant psychology and behaviours that contribute to the learning experience and impact.
The path of communication usually from body language is disrupted. I often describe to those new to delivering an impactful online experience, that it's almost like having to turn up the volume on your energy to 'throw' it through the screens, as much of the energy and enthusiasm can be diluted due to the lack of direct body language and communication.
A shift in training
It will be no surprise that online and virtual delivery of resilience training is still with us and unlikely to go anywhere anytime soon. Its accessibility, flexibility and democratising effect is useful and successful. We have observed a positive demand for delivery of organisational training, partnership training and
exercising through this route. For example, our Business Continuity Masterclass for Strategic Leaders, which is covered over a day online, is a great and popular option for those in leadership roles.
Reflecting on those early pandemic impacts, we can see that the resilience community continues to value residential and in person training. I have observed resilience practitioners welcoming the opportunity to take time out of their demanding roles and reap the benefits of a space dedicated for resilience learning and
development.
There is great value in people coming together in person to develop their insight and knowledge in a facilitated way with experts. The exchange of ideas between sector peers in the non-facilitated spaces is also highly valuable. The college campus has always provided peaceful surroundings and space for networking; with its rich heritage in the UK's roots in resilience dating back to 1937 when the campus was acquired by the Government. Work continues for the college and CCS, and the College was named this year as the first Cabinet Office Government Skills and Curriculum Unit (GSCU) campus.
We have also seen that an outreach delivery approach is popular. Taking the training to you and your venue has advantages and can support a local discussion in a familiar and structured environment for the professionals involved.
A wider range of training options
The shift in new ways of delivering training has sparked a discussion in many spaces about 'which is best?' In my opinion, we have simply become richer in options to meet the learning and development needs of the resilience community.
Considering the Government aspiration for the UK to be the 'most resilient nation' (The National Resilience Strategy Call for Evidence 2021) and the response to the House of Lords Planning Committee's report, Preparing for Extreme Risks: Building a resilient society outlining commitment to learning in resilience, we continue to ensure the currency and impact of our services.
Research is underway by the college and CCS for the launch the UK Resilience Lessons Digest later this year, providing a shared space for professional insights, continual improvement and transferrable lessons from the local to national level.
The Post Implementation Review of the Civil Contingencies Act sets out the duty for categorised responder organisations to have 'due regard to relevant standards'. As organisations reflect on their readiness and capabilities, we continue to embed the practical experience of the challenges of the last two years into the college's training delivery and look for new ways to support individuals, teams and organisations on this journey.
Source:
Article originally featured in the Emergency Services Times
Author, Kelly Blakeley, Resilience Capability Lead